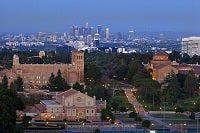 Address:
UCLA, Strathmore Building
501 Westwood Plaza, 4th Floor
Los Angeles, CA 90095
Mail Box #951605
Main Line: (310) 825-5689
Our Mission
Encourage and promote a strong safety culture that practices sound health, safety and environmental stewardship.
Our Vision
Engage and inform the UCLA Campus and Community by providing collaborative, proactive and responsive safety and compliance expertise.
Our Divisions
UCLA Fire
Emergency Management
Research Safety
Information Technology
Administrative
Environmental, Occupational and Safety Programs
We Are Here to Help
EH&S serves and supports the UCLA campus community in a number of ways, please let us know how we can assist your department, event, or research. 
EH&S is a sound leader in health, safety and environmental stewardship for the top public university in the nation. 
We are an education and safety partner for the UCLA campus community, which includes researchers, UCLA faculty and staff, students and campus visitors.  
EH&S strives to promote responsive, quality programs and services that are relevant, valuable and necessary to the safety and welfare of the UCLA campus, staff, and our world-class research community. 
EH&S is committed to the success and development of every member of our staff in order to serve our campus clients in the best way possible. 
Our Values
Respect:
I show respect for my team members by considering their ideas and opinions.
Accountability:
I practice accountability by holding myself and others to a high level of professionalism and engagement in the workplace.
Integrity:
I embody integrity by choosing to do what is best for the organization and consistently leading by example.

Service:
I continuously seek to provide an improved customer experience for EH&S clients across the UCLA campus.

Excellence:
I strive for excellence by challenging myself to grow professionally, as an individual contributor,  and as part of the EH&S team.