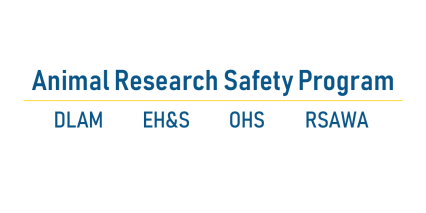 Do you work with research animals and anesthetic gas?
The UC Center for Laboratory Safety, Safety Training Consortium (STC) released a new waste anesthetic gas training in December 2020 for researchers that use gas anesthetics in their animal research activities. This training, accessed through Worksafe, is titled "Waste Anesthetic Gas (WAG) Online Training"; course ID "ENV-WAG-OL." The training will take approximately 15 minutes to complete. The Training is now required for those that work with research animals and use anesthetic gases like isoflurane and halothane. Please complete this training prior to using anesthetic gases and annually to refresh the safety information. 
Did you know that we offer WAG Consultations?
Animal Research Safety and Industrial Hygiene have joined together to assist researchers with waste anesthetic gases. They are available to answer questions and provide recommendations on safety concerns. We ask that customers book a virtual WAG consultation through the new booking application. The consultations are used for safety concerns surrounding waste anesthetic gases, anesthetic machines, scavenging systems and/or setting up a new anesthetic machine. Please direct research groups, that use anesthetic equipment, to the virtual WAG consultation.
Questions?
Contact AnimalResearchSafety@ehs.ucla.edu | Website