The new Vivarium Safety Management Plan has been adapted from the EH&S Laboratory Safety program new Risk Assessment Process to replace traditional inspections. The EH&S Animal Research Safety Program works with our stakeholders in the vivariums to proactively prevent health and safety concerns within the UCLA vivariums.
The Vivarium Safety Management Plans gives the opportunity for EH&S and the vivarium teams to discuss specific hazards and safety concerns, and to create a safety plan document to refer back to for each vivarium.
 
Vivarium Safety Management Plan Document
The document contains 4 sections:
 
1) Basic Information
Contact Info

Location

Summary of work

Animal species

Hazards

PPE
2) Risk Assessment
Prevent unsafe actions in the vivarium, as opposed to correcting unsafe conditions.

Operations

Mitigation strategies

Risk levels
3) Safety Assessment
Accidents/ near misses

Internal training

External training

Security

Storage

Waste Management

Emergency Management

General safety & Housekeeping

Equipment maintenance

Updates & Revisions
4) Sign Plan
EH&S Animal Research Safety and Vivarium managers agree to completed document
Schedule
The Animal Research Safety Program will assist your vivarium to implement the new safety management plans through 3-year cycles. The Vivarium Safety Management Plans follow the schedule cycle below including an initial walkthrough to identify risks and hazards. Then an initial meeting with the vivarium mangers and staff to talk about risks, hazards, concerns and start the Vivarium Safety Management Plan document. After the safety plan document has been submitted for review to EH&S, a follow-up walkthrough of the vivarium will be conducted to ensure the plan is accurate and efficient. This is also an additional opportunity to correct any practices if work has changed in the vivarium.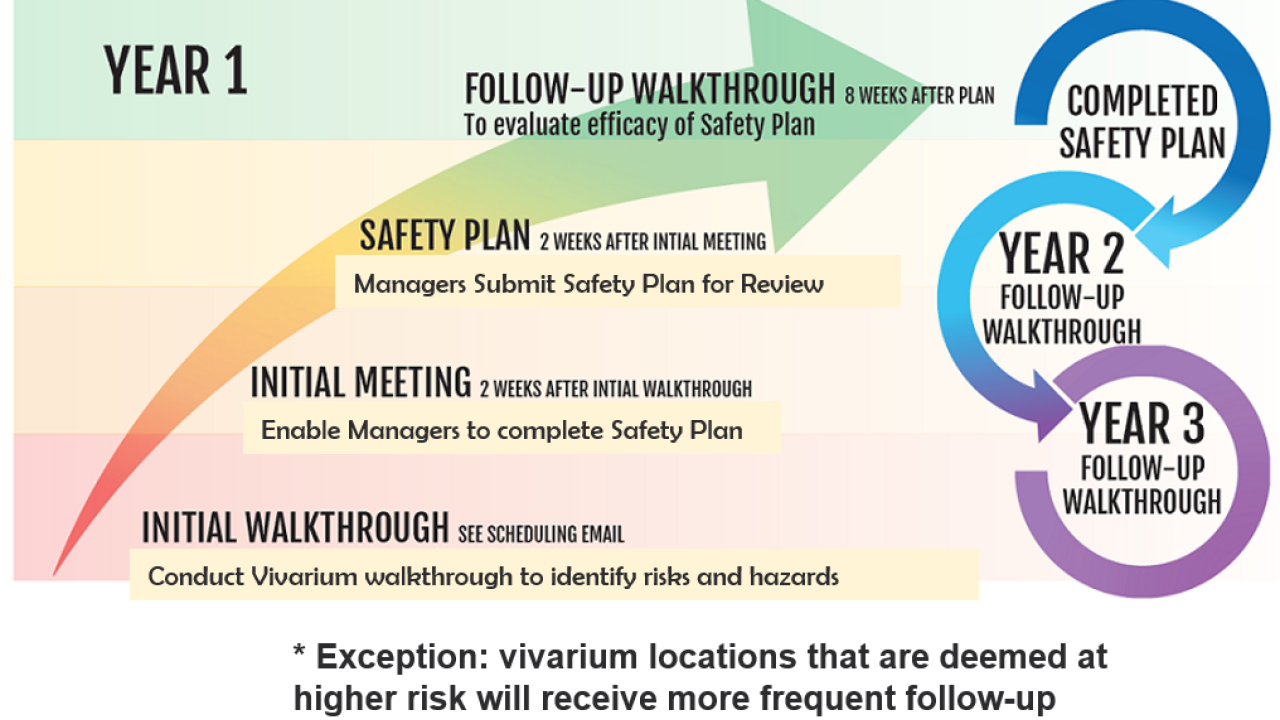 Related Links
Animal Research Safety Program