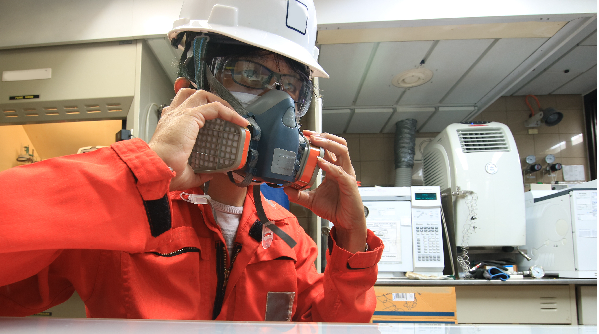 What Does Industrial Hygiene Do?
Oversees Industrial Hygiene Programs for campus departments including Respiratory Protection Program, Indoor Air Quality (IAQ) and Hazard and Exposure Assessment Programs. Responds to Indoor Air Quality (IAQ) concerns, including odors, dust, mold, as well as physical hazards, such as noise and vibration.  Provides respirator training and fit testing, hazard assessment consultations and personal exposure sampling for hazardous chemicals, and ventilation surveys. Maintains the IH monitoring and sampling equipment.
Conducts inspections, incident investigations, safety consultations and hazard-specific training/presentations upon request.  Consults on and investigates occupational exposures & illnesses, and IAQ complaints.
Our Team
Manager, Industrial Hygiene Program - Neil Mansky
Industrial Hygienist - Michael Jacobs
Lead & Asbestos Program Manager - Josue Romero 
Industrial Hygienist - Chris Holguin
What specific programs do we manage?
-Respiratory Protection 

-Indoor Air Quality (IAQ) 
-Hazard Assessment 
-Exposure Assessment 
-Ventilation Assessment 
-UCLA Confined Space (collaborator)
-Respirable Crystalline Silica

What inspections do we conduct?
Indoor Air Quality (IAQ) Inspections
Who are our clients?
All campus departments including employees, faculty/staff, students and visitors, except Health Systems buildings.
 

Who are our main collaborators?

Facilities Management

-Project/Construction Managers
-Building Managers      
-Engineers
-Plumbers

Capital Programs Management

Project Managers

EPA Reference Sites