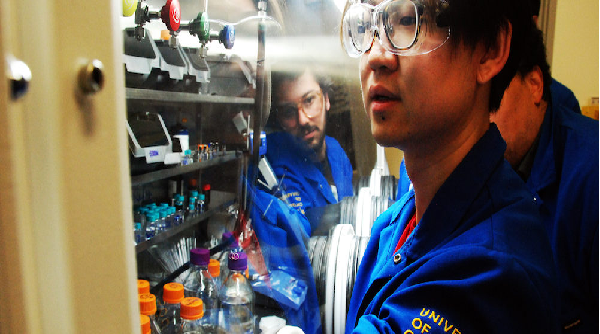 What Chemical Safety Does
The Chemical Safety team at EH&S is comprised of specialists from various scientific backgrounds providing support to labs for compliance with campus policies and safety regulations.  Our primary area of expertise is chemical safety but we also focus on laboratory-related issues around the working environment. Chemical safety also conducts consultations, site assessments, trainings and responds to lab emergencies.
 
Meet the Team!
Christopher Kolodziej, Chemical Hygiene Officer 
VACANT, Associate Chemical Hygiene Officer 
Karla Barahona, Chemical Safety Specialist 
Lizette Enriquez, Chemical Safety Specialist 
Allison Hui, Chemical Inventory Specialist 
Find your Chemical Safety Specialist by Building

 
Safety First - How Can We Help?

Chemical Hygiene Plan

Laboratory Hazard Assessment Tool (LHAT)

Chemical Inventory System (UC Chemicals)

Universal Door Cards

Standard Operating Procedure (SOP) Template Library 

                                                                                                                                       

Who Are Our Clients?

UCLA research labs with hazardous chemicals

UCLA-affiliated research labs and teaching community

Who Are Our Main Collaborators?

Chemical and Physical Safety Committee (CPSC)

Office of the Vice Chancellor for Research Safety Oversight Committee (OSOC)

Research Safety and Animal Welfare Administration (RSAWA)

Facilities Management

UCLA David Geffen School of Medicine

Department of Chemistry and Biochemistry

School of Engineering and Applied Science (SEAS)

ChemTag Program

In 2018, UC Davis launched the ChemTag program to improve the efficiency of chemical inventory management through faster reconciliation of chemicals. This ensures that lab inventories are in compliance with the safety regulations and campus policies. The program utilizes the Radio Frequency Identification (RFID) technology and the Risk and Safety Solutions (RSS) Chemicals application to easily locate chemicals and share chemicals within the campus community. RFID does not only speed up this process compared to using regular barcodes, but also improve the overall safety on campus as the accurate identities and location of chemicals are known.  

  

Here are some links to help you get started: 
 
ChemTag Program Flyer

RSS How to Page for UC Chemicals  
 

For any inquiries regarding ChemTag, please reach out to us through ChemTag Services Request (google.com).  We would be happy to help!